Last month, my hubby offered to give me a "poke-free" massage. I have to admit, I was skeptical, and pretty certain he wasn't capable of accomplishing a naked rub-down without getting a raging boner. But, I was tired, my shoulders were aching, and I figured it was worth a shot! Besides, it had been years, and three kids, since he'd made such a romantic gesture and I wasn't about to turn it down.
I double checked that the kids were fast asleep in their rooms and I hopped into the shower. Hubby lit a candle, got out the oils and laid down some towels on the bed. I hopped out of the shower, quickly dried myself and made my way into the relaxing setting he'd created, knowing damn well where this would be leading. Five seconds into the massage, he was pitching a massive tent in his boxers. I tried to ignore it. He tried to deny it. But there was no way around it; he was ready for action and, as it turns out, so was I!
Just as things were starting to heat up, we heard footsteps coming down the hallway and into our room. It was our sleepwalking middle child, the reason why we keep our bedroom doors open at all times. She was just standing there, looking at the wall; eyes wide open but clearly still asleep.
I escorted her back to her room and closed her door, at which point my youngest woke up and started fussing.
Shit!
So there I was, a naked statue, standing frozen in the hallway. A few moments passed and the coast seemed to be clear, as long as I didn't step on that one creaky floorboard.
Which is, of course, exactly what happened next.
With one little creak, I was done. My youngest was wide awake –oblivious to my naked, oily state– and asking me for a glass of water. I gave her some water and laid with her for a while, as per requested, until she fell back to sleep. When I got back to bed, the candle was out, the dog had curled up on my pillow, and my husband was snoring. I threw on my favourite penguin pjs and followed suit.
ZZZZZZZZZZZZZZZZZ.
Since then, hubby has offered a few more "poke-free" massages which have, of course, not happened. Such is life with kids…
But, I've been thinking, with Father's Day around the corner, I'd like to spice things up a bit and show the hubs that I appreciate him. Maybe I should try to reciprocate his massage offer which, if all goes as planned, won't be "poke-free" but will have more of a "happy ending." Yet, realistically, with three kids and two pets, someone is bound to get in the way.
Besides, Father's Day really should be more about the kids showing their dad he's #1, right?! And I have the perfect idea! My husband and I may be lacking heat in the bedroom, these days, but luckily my guy loves to heat things up in the kitchen. So, this year, for Father's Day, I think I'll skip the "happy ending" massage plan and go straight for The Feugo Box of deliciously spicy goodness for the dad who loves heat! These awesome sauces are bound to leave my husband happy, hot, and sweaty this Father's Day, no matter who interrupts.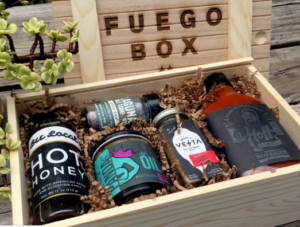 And we want you to have a SPICY Father's day too! Enter below to WIN a Feugo Box of your own! Open to USA/CANADA Closes June 15.
a Rafflecopter giveaway